The truth behind authenticity: So I'm writing this blog in response to an Instagram post I had a few weeks back. The post had lots of engagement and I felt a need to elaborate on this topic a little more.
I think we can all say that we enjoy Instagram and all other forms of social media we use. I think it's safe to say that the majority of us probably check our social media platforms at least 10 times a day. (I know I check mine easily 10 times if not more.) It's such a fun platform that is truly a great way to discover basically anything. The best thing about Insta is the fact that millions of users are choosing to hop on and follow things that interest them. What's even better than that is the fact that brands, specifically smaller brands, have what I would say an equal opportunity to connect with the market of the "big box" brands. It's a great platform for the entire spectrum. Everyone can have the same reach just by using social media.
When I started my company, I quickly discovered two main things that were going to grow my business. The first being, word of mouth. Word of mouth is a good old-fashioned strategy and I still believe that it's a great way to acquire new customers. The second being, a program where I had an "instagram word of mouth". Meaning, get people talking about my bikinis online and have them share my brand with their community. Including the products my company has to offer. This was my ambassadors program.
At the time, it was a pretty flawless concept and proved to be valuable to my company. How the process worked was I would give free bikinis to a select group of girls to rep them and in trade, they would provide content with the promise of "social media word of mouth". Throughout this process, I had so much fun connecting with Strangers around the world through the same appreciation of my product. I found at times that the deal itself was even more beneficial to the brand due to the fact that the content being produced by the ambassadors was unique, rad and special. Even if I was gaining customers through mediocre posts, I could tell that my ambassadors wore the swimsuits to get word out and genuinely cared about holding up their end of the deal. In the end, the goal was the same. Sales were being driven in the direction I wanted them to grow.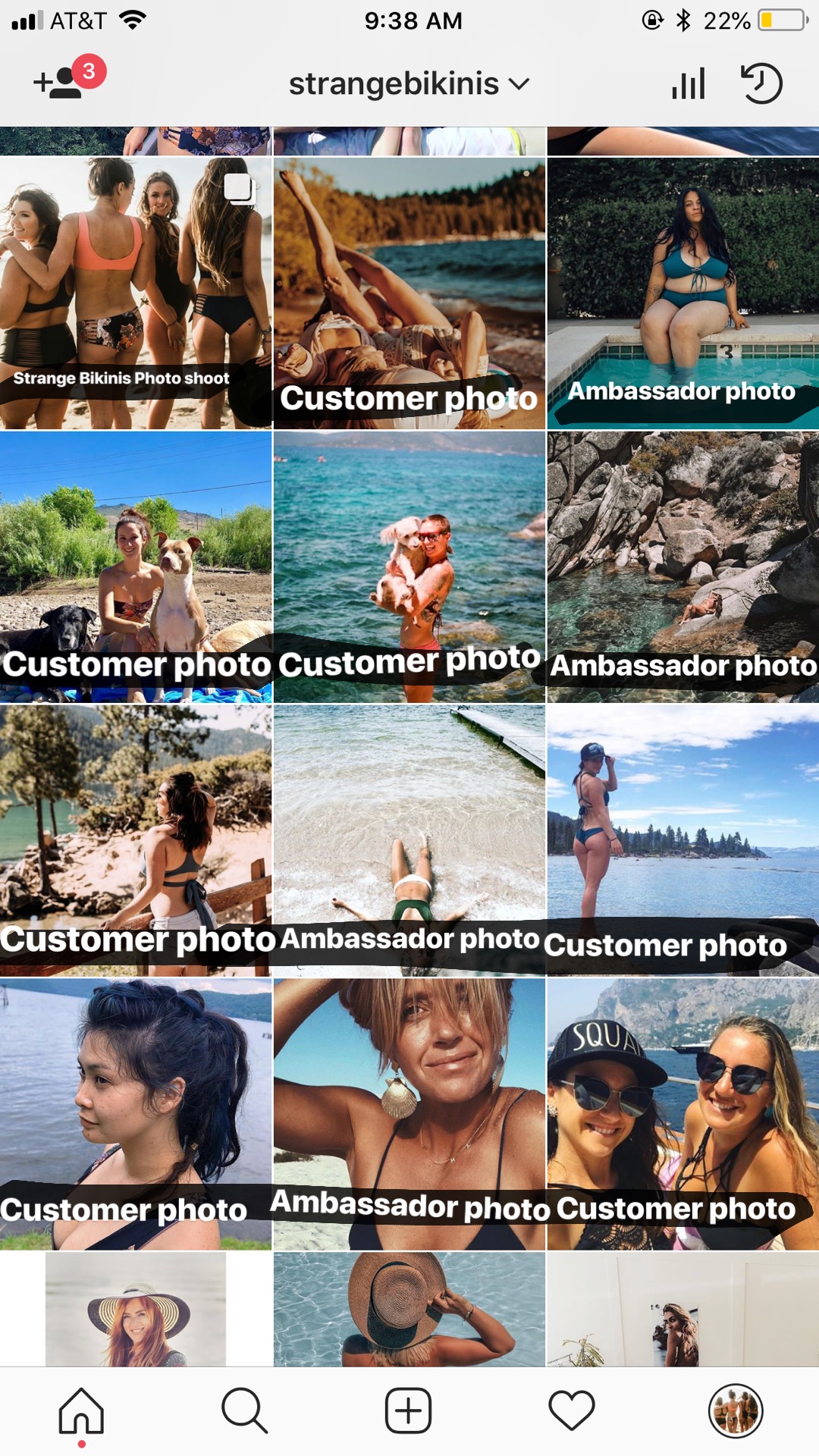 I have been doing this ambassador program since 2013. Each year, as my business grows, so does the amount of free products I send out. In 2017, I sent out $24K of free swimwear. This is where I started to really re-assess the value in the program. As you can see, $24K is not exactly pocket change.
Not sure if it is just me or if others are seeing this as well, but Instagram has shifted within the last two years. I noticed if you are a consumer, scrolling through posts, there aren't many genuine posts. Everything looks forced or staged. No one is really putting in the effort like they used to when being a hardcore ambassador. So let's talk about that for a quick second. Like I just said, I'm guilty of being a brand that is selling to you on Instagram. Having said this, I have reached my limit.
From a business standpoint, I just can't do it anymore financially. It was one thing to make the swimsuits and send them out to people who genuinely wanted to do more with the suits rather than just taking one photo in them. They wanted to wear them in their real life and leave a following base behind the suits. Not just a staged photo shoot to gain more followers. But now in order to get people to promote your brand, you have to send multiple swimsuits and pay a fee to even have your product placed.
At first, I wasn't shaken by this because a few years ago it was mainly the high level bloggers or "grammers" that were requesting payments on top of products. I looked into a few for representation, but it just never sat well with me. I want REAL connections with my customers. I want my customers to look on my Instagram feed and see REAL girls wearing my suits. By seeing REAL girls in my suits, I hope my customers see this and feel excited about the styles and quality in REAL life situations. That's just not something you can get from a paid influencer.
I'm getting contacted by accounts that have 2K, 5K or 10K followers who want me to send them bikinis and pay them for placement. Sometimes, big level accounts contact me, but they will not commit to anything other than taking the free swimsuits.. (Sure sounds amazing. Let me send you my blood, sweat and tears for you to throw it in the endless piles of free shit you get from other brands) I'm sorry, NO. I would rather give free swimsuits to my customers and build my community like that than paying people to claim to love the brand. And wait, there's MORE. They want anywhere from $250 a post up to $5k a post. THIS IS HAPPENING.
These accounts in return make me feel defeated. I just want it to be more genuine. If some of these high level influencers still preached about brands/companies that didn't pay them to, that would make me feel much better. But this often isn't the case anymore.
Small business simply cannot "pay to play" like that. Sure, I wish I could put my swimsuits on all my favorite bloggers. TRUST ME, I have tried. But I just can't cough up these insane prices just to have a post- that truly feels like an AD and not a LIFESTYLE.
It's all such bullshit you guys. The best part is they act like they are doing me a favor. WTF! Seriously, I just can't and I won't anymore. I'm taking a stand on paid placements and influencers for my account. I'm not sure what will come from this, as it definitely isn't the way everything is shifting, but it's the STRANGE WAY.
I follow lots of influencers and Bloggers and truly love when I can tell that it's a non-paid placement. I just want a chance to share my products with the world. With being small, I need to believe that I can make it big without paying ridiculous amounts of money for recognition. I have gotten this far without big marketing budgets. I would like to put my money toward better fabrics and lower prices rather than throwing at these flawlessly planned out Instagram accounts that don't represent my brand...
I guess I'm getting worked up because it is so hard to run a business. In the beginning, it's mostly fun and profitable. Think about it. You start out in your home with little to zero overhead. As things grow, you slowly start to add overhead that you simply cannot operate without having. Let me name a few: shipping accounts, shipping materials, services on your machines, website fees, cost to build and maintain a website, cost to have a newsletter campaign, and probably a few other small things. These are things that just launch the beginning and the bare minimum.
Once Strange Bikinis hit a certain level, the current level I'm in, the overhead is crazy hard to manage. It's inevitable that with growth, prices have to go up. It's also pretty clear that when people see you doing "well", they charge you more. I haven't raised my prices in 2 years because I really don't want to. I want to keep the prices competitive with other small brands, but I am never going to be able to hire help if I don't make some changes.
I think my mission is to educate you on how much it actually takes. With this new knowledge, hopefully you will appreciate small businesses and MADE IN AMERICA products more. It's not just a fun sentence to print on my bikinis, it's a stamp of honor. It costs 2-3x as much to produce in the USA than it does in Bali or China. BTW Bali=China. So don't feel good about yourself if you think you're being bougie and shopping bikinis made in Bali. Sad, but true.
Since I'm not a writer, I'm trying to loop this all together. Basically it comes down to the fact that I would like my company's profits to go towards paying employees a good salary, perfecting my products, achieving the highest quality swimwear, and giving back to charity. I do not want to spend our money on fueling influencers on Instagram. I work way too hard to send them products for fake marketing. FAKE. My entire career I have held onto the fact that what I'm trying to do is be RAW. To be REAL.
I hope you hear what I'm saying. I don't think this means I won't work with bloggers, but it certainly means I'm going to build relationships with people before sending out products. I want it to be on a deeper level and an impactful deal for both ends.
What I want you to take away from this is to realize that those accounts, that are so perfect and totally curated, are in fact fake. I don't want to encourage you to not follow them, but I do want you to take a second to think about what they are selling and why. Look for authenticity in the accounts you follow.
I don't want to come off as a hater either, but working your way up from nothing and having a successful business is such a dream come true. There are so many new swimwear brands popping up that are cheap and affordable, pretty cute as I might add. However, I can tell you one thing. The heart behind the product is not there. It's just money behind a quick brand. It takes a lot of money to produce in a factory. I wish I had a rich Dad or Uncle to just kick start my brand off. Instead, I worked and saved for 4 years before going to production. I took my time researching factories and creating a beautiful collection. I hope you guys take note of what I'm saying and really think about things before you post as an ambassador. Take the time to truly appreciate those authentic brands as they are becoming more and more rare.