Each year I design one collection. It starts with me really vibing with certain colors. I typically find a print that I adore first, then add in the Solid fabrics. Here is a swath book and the colors I selected laying vertically.
The inspiration yields from many different areas. Mainly traveling and nature. I look at things I love like a dreamy Nevada Sunset (deep dream print ) or the sediment formation around a natural hot spring (wander print) and try to find it in a fabric form. I think I have done pretty good I'm waiting to show you the new prints, so hang tight. If you didn't know I went to school for Fashion Design and Product development is the majority of the classes in that program. I do all that in house (product concept, design, product development and sample making) . I'm very thankful for that as it's very very expensive to contract sample making and pattern making to a freelancer. I would love to tell you I dream up my designs and sketch them out and illustrate them on a fashion figure, HA no. Ideally, I would do that. I simply play with the ideas I have in the sample making process. Since I'm a hell of a seamstress (I feel confident enough to brag about that) I just whip them up and make changes to the creations as I see fit. It's one of my favorite jobs I have. A lot of the changes and designs are actually inspired by feed back from customers, so always let me know if you have an idea or think a bikini could be better.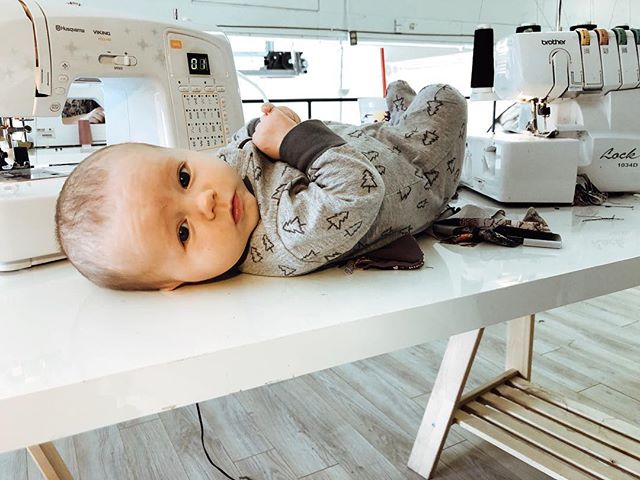 Here's my son Calvin helping me sew some 2019 Samples...
From here I have to make all the patterns and grade all the patterns. I know what you're thinking, "What the hell does that mean?" Make the patterns mean the pieces you lay in top of the fabric so you can cut them out. And grading means to create a size run. Ooo speaking of size run. Thank you for hanging in there with me in 2018 with our sizing. It was running small and we sold out of Mediums and Larges rather fast. I'm super excited to announce we are adding XL in to our stock options for 2019!
See me here working on the sizes and checking to make sure they are running accurately to how I graded the patterns. From there it's time to send everything off to the cutter and then to the factory. Keep in mind this whole time I'm working with the fabric vendors! I'm also stoked to say we have a new fabric vendor out of Brazil. Yes! Brazil! The Mecca is the tiny bikini! They know what they are doing when it comes to fabrics! It's so much nicer you guys! I have to scoot over to San Francisco a few times through our production to check in on the quality and make sure everything looks A-OK. This time my family came with me because the only time that worked for my schedule was Christmas Eve, so here we are working at the factory... #entrepreneurslife
So I have a lot of stressers during the time of production. I actually had a real moment and recorded A very low point of production when the fabric vendor was WAY behind and my cutter was pressing me. It's all a chain right, and when things don't land on time the next part can't do their work... it can get messy real quick. So here is a tid-bit or real for reals Ali. Sad, scared, stressed to the max, new mom balancing it all, Ali. Enjoy (I recorded this in a moment of panic and I thought to myself, it isn't pretty but your Strangers might want to see your struggle, because it's real!)
Ok now that I have shown you some of the ugly side now let's talk about the real fun stuff, marketing plans and photo shoots!
I typically plan a big shoot each year and use those photos all winter long for Social Media and emails, however this year since I didn't get my fabric in time (reference the above video lol) I didn't have any fabric to make samples for shoots or to even send to influencers or models. So it's Early January and I have zero photos of the new collection. Shit! Ha old Ali would have stressed the F out about this. But I'm going to have faith that it will all come together like it always does! Once everything is good to go at the factory I typically have a general idea of when I will receive the new collection, but I have learned from years past that things never come on time. So for now we will say mid-late February! Like every year!
Once I get them, it's time to SELL, SELL, SELL! Since I am still very much so a small business, keep in mind how much I appreciate and count on YOU, a loyal stranger obvs cause you're reading this, to tell every singe booty about Strange Bikinis! This is a very brief description of what design and production is really like. I'm considering breaking this down even more. We will ask in our story if you'd be interested in more detailed blog posts about the reality of being a designer/ apparel manufacturer! So let us know there.