Feminine yet bold is how we like to describe the 2019 Talk to Strangers Collection. We know you babes will love the styles, colors and prints this year! Not to toot our own horn or anything, but these prints and colors are to die for! Along with the new prints and colors, a lot of your favorite styles will be coming back AND we have some rad new styles... Including more high-waisted bikini bottoms and some simpler pieces, which you've all been asking for! Beyond the best color combos Strange Bikinis has offered thus far, Ali is most excited about the NEW fabric. It hails from Brazil and silky and oh so stretchy. You will want every one you try on after feeling this new fabric.
When Ali is designing her collections she always has the outdoors in mind.. While we still love seeing you rocking your Strange Bikini pool side or in a hot tub, when we see a Strange Bikini out in nature it makes our heart skip a beat. From the mountains to the ocean... that is exactly what Strange Bikinis are made for and inspired from.
So, what do you think inspired our Hot Tamale, Tangerine, Feeling Floral... the warmer/brighter shades this year? THE DESERT. More specifically, we picture our bikinis surrounded by sandy terrain, cacti and secret hot springs in places such as Joshua Tree, Lake Powell, Sedona Arizona and all the hidden places in between. Speaking of, going on a trip to any of these places soon? Pleaseeee email us at happenings@strangebikinis.com. We're looking for STRANGE babes to write guest blogs and do Instagram Takeovers!
Now! What you've all been waiting for.... drumrolllllllll please!
The 2019 Talk to Strangers Collection is here!
Starting with our new print, Feeling Floral in versatile High Tide Bottoms and Stateline Top. The floral pattern adds the perfect feminine touch to our line this year with the blush pink and dusty blue tones. This pattern is great to mix and match with our new Ice Melt color... And, can we talk about those high-waisted bottoms?! We're obsessed with our High Tide style. She is a flattering bottom that can be worn tied (shown here) OR wrapped on the sides, which we'll show you below. Our Stateline Top also has two styled options. Tie it like so, or tie both of the strings behind your neck for a basic triangle top look.
Hellooooo Ice Melt! Like I mentioned above, this color looks great on it's own or mix and matched with our Feeling Floral pattern. Shown here in everyone's favorite, Ranger Top and Bottom style.
We love to mix and match. Every piece from our collection is designed so you can mix and match all day long! With that being said, don't be afraid to pair any of our solid colors with any of our other solid colors... Which brings me to our Hot Tamale color! This color is straight FIRE, am I right? Ciara is showing off our Hoosier Monokini and our recognizable Tango Wrap Top here. We didn't have the Hoosier style in our 2018 Collection and we know you missed it, so we're pumped to have this baby back in 2019!
Ready for another pattern? Check out our new Popsicle stripe pattern! We're rolling in the stripes this year. And in these fun colors... Bring me a popsicle, stat! In the popsicle print, we're showing our Bliss Top and new and improved Stryker Monokini. You might recognize the lace-up details on the back from last year's Stryker, but this year we've added a lace-up detail in the front! Now you can adjust this one piece to show off however much cleavage you'd like ;)
Now introducing, Tangerine. This color screams desert, doesn't it? We're showing off this color in our Destination Top and Bottoms. Another great high-waisted yet cheeky style! Similar to our Ranger Top and Bottoms, this style also has rad tear details. Want to show off your tan? This color might help ;)
Black is BACK, baby! Oh yes... We had to bring solid black back into the mix. You can't go wrong with a little black bikini! Showing this one off in another Monokini, meet Galena. We're excited to offer 3 different Monokini styles in this years collection!
Say hello to our second stripe style, Retro Stripe! We're offering this baby on it's own or in reverse Feeling Floral. So yes, the mix and match options really are endless! The first bottom is our Hannah bottoms, a nice fuller coverage bottom for our ladies that don't like to get too cheeky, and our Half Dome bottoms for the babe that loves to get cheeky ;). And if you haven't noticed, there is a hint of Tangerine in this pattern... So go crazy pairing with our solid Ice Melt and Tangerine colors!
Now, this might be our most fun style yet.. This year we're rolling out COLOR BLOCK! Stand out with this trendy style and play around with endless color combinations. Shown in our High Tide Bottoms, we have Hot Tamale on the back, Ice Melt in the Front and a Tangerine Tie. Like I mentioned before, you can rock these bottoms tied in the front our wrapped. We have a feeling these bottoms might just be our most popular yet!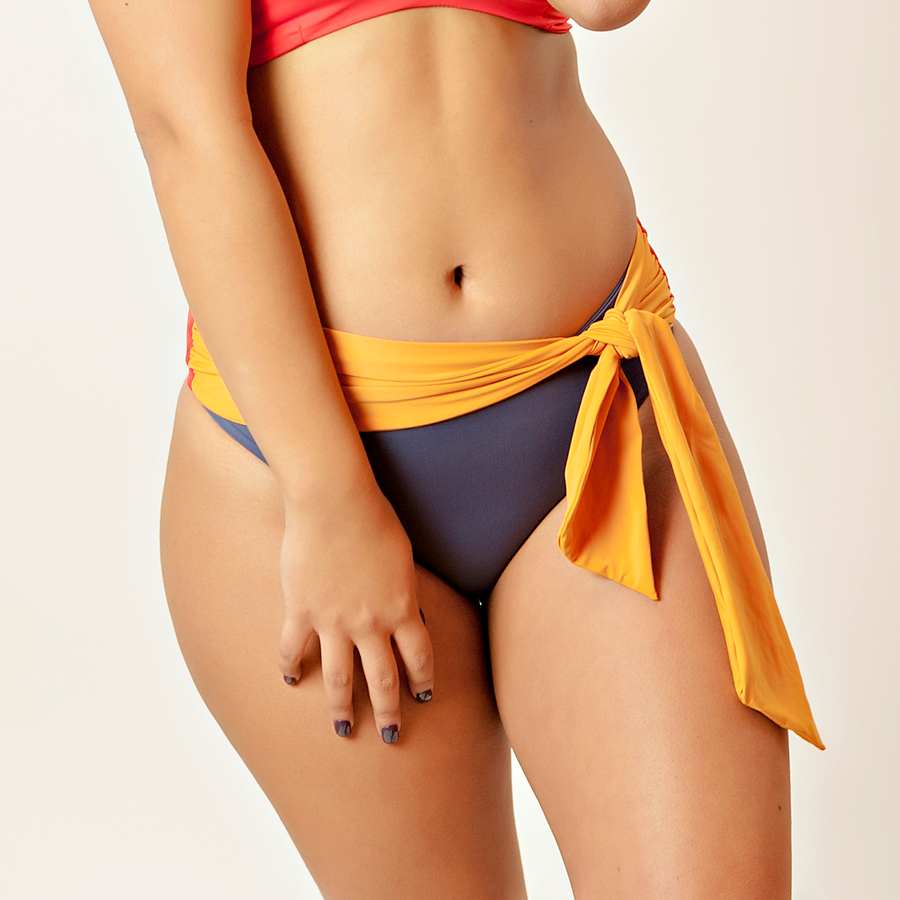 Alright Strangers, are you as obsessed as us with the new Talk to Strangers collection? We hope so! If you didn't see your favorite style, don't worry. We didn't show off ALL the different styles we will be offering this year.
Mark your calendars, because this collection will go LIVE on the website THIS FRIDAY, 2.22.18!!! Some items you'll be able purchase right away while others will be preorder...
We can't wait to see you babes rocking the collection soon! #TalkToStrangers